The Norwegian Public Roads Administration has created a Truckers Guide as an aid for both foreign and Norwegian professional drivers.
Here you will find tips for driving on Norwegian winter roads, information on tires and chains and some laws and regulations that apply to transport in Norway.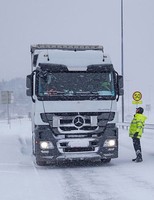 Feedback from some of our suppliers on the received Truckers Guide from Astrup AS:
From Bulgaria
Thank you for the notice. It has been forwarded to our Logistics dept. I hope that we don't get to see any accidents. We also wouldn't accept delay of delivery, related to non-conformity to local regulations, by the transporters.
From Poland
Your message with the guide for foreign trucks are well received. I have forwarded it to our logistics department with a firm request to give the guide to our forwarders & truckers travelling to Norway.
From Romania
Thank you for the guide, I will sent this to my colleague from the logistic department to inform the transport company about this rules.